Products
Learn more here, or...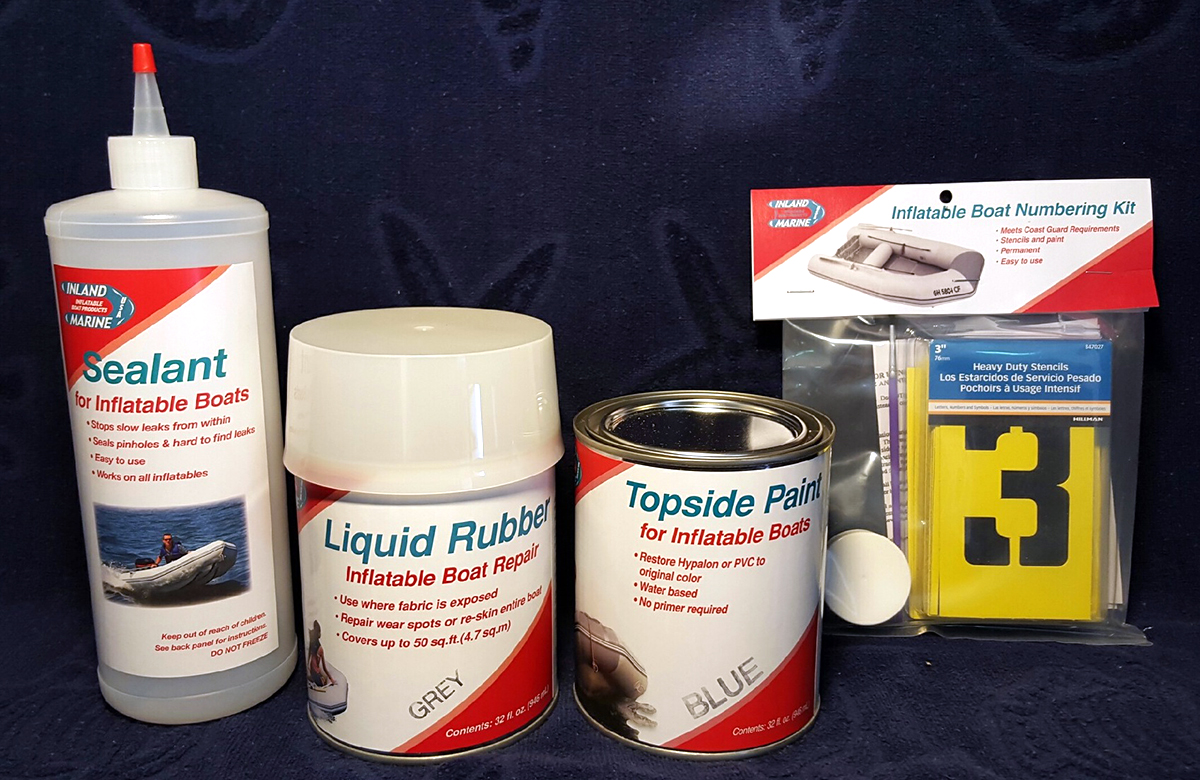 Inflatable Boat Sealant Kit Stops Slow Leaks!
$54.99
Inland Marine Sealant® is specially formulated for use with inflatable boats, rafts and tow toys. This sealant forms a bond with the interior fabric of the inflatable, stopping or "sealing" slow leaks and preventing future leaks from developing.
In one easy step, leaks are cured from the inside, which are virtually impossible to find from the outside. Inland Marine Sealant is the only product of its kind which allows for future deflation of your inflatable (for storage, etc.) without the skin sticking to itself and making re-inflation virtually impossible. This is why Inland Marine Sealant has earned a 5-Star product rating from West Marine™, and is has been used by the US Navy and Yachters worldwide since 1986.
If you are having a difficult time locating the leak in your raft, kayak, tow toy, or dinghy, you need to use Inland Marine USA Sealant, because our Sealant is especially helpful in fixing those difficult slow leaks that are not easy to find. Our Sealant provides a strong bond that should last for years when applied according to the easy instructions.
It will seal the leak(s) and keep your inflatable firm for years to come. And Inland Marine USA Sealant can be used multiple times, so if your inflatable develops a new leak weeks or years from now, you can use the sealant again!
How can something so thin be so strong?
Inland Marine USA Sealant flows faster than water. The viscosity of our sealant was specially formulated by our chemist to repair inflatable boats and make them reliable – even in rough seas.
You might compare our Sealant to a sheet of Kevlar. Kevlar can stop bullets; a 2 mil thickness of Inland Marine USA Sealant can stop air up to 90 PSI. In tests, we have even sealed soccer balls and used them in games, bounced them on concrete, and kicked them as hard as we could without leaks.
Since 1986, our sealant has been used by boaters around the world to repair inflatable boats of all kinds. The product is used by professional raft repair companies, US Navy Seals, and individuals like you for inflatable boat repair.
Some manufacturers even use Inland Marine USA sealant to repair boats in their Quality Assurance Test. Slow leaks can be difficult or even impossible to find, but our sealant will solve all your slow leak problems in minutes!
Don't Take Our Word for it!
The reaction from people who have tried Inland Marine's Sealant is so extreme, it actually compels them to write us love letters… See for yourself!
Be sure to visit our Amazon Store!
A full selection of Inland Marine products to help you restore your inflatable boats, kayaks and tow toys to their original firm and beautiful appearance.