Testimonials
Some of our Lover Letters…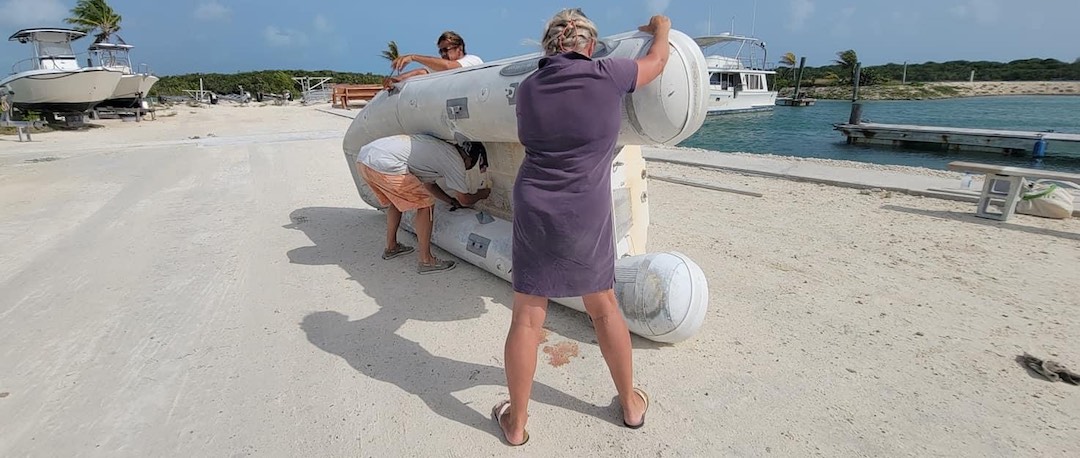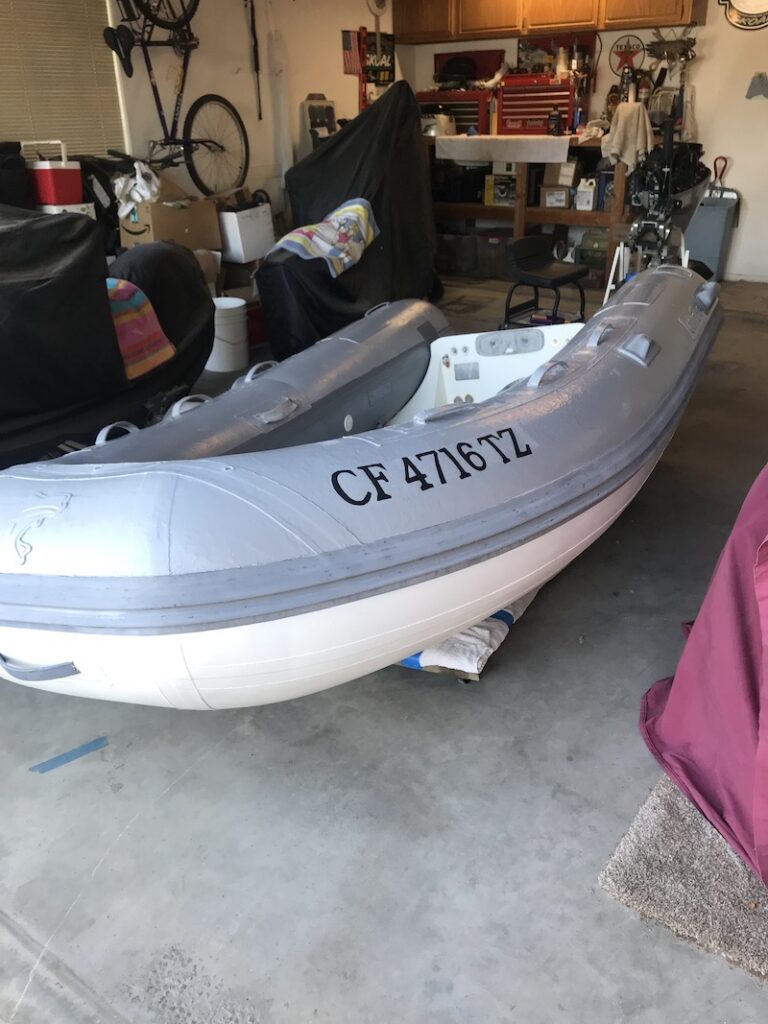 Your product is awesome! Our dinghy looks brand new – we were totally amazed. We are very happy customers and would recommend your product for a dinghy rehab!
Six months ago, a friend left this dinghy behind our boat. We said we don't need another project, but we got one anyway.  It had a leak which we had some guy come out and slosh around some sealer inside.  It worked for a while, then it started leaking in other places. The previous owner sprayed Flex Seal to seal the leaks, and it looked like it had warts everywhere.
So, we bought your restoration kit and started working.  We followed the directions to the T – which is very important – rolling it for 3 hours was challenging, but we got it done. Now it looks brand new and we still have a can of liquid rubber in case it needs another coat down the road.
Frank and Windy Holland
Huntington Beach, California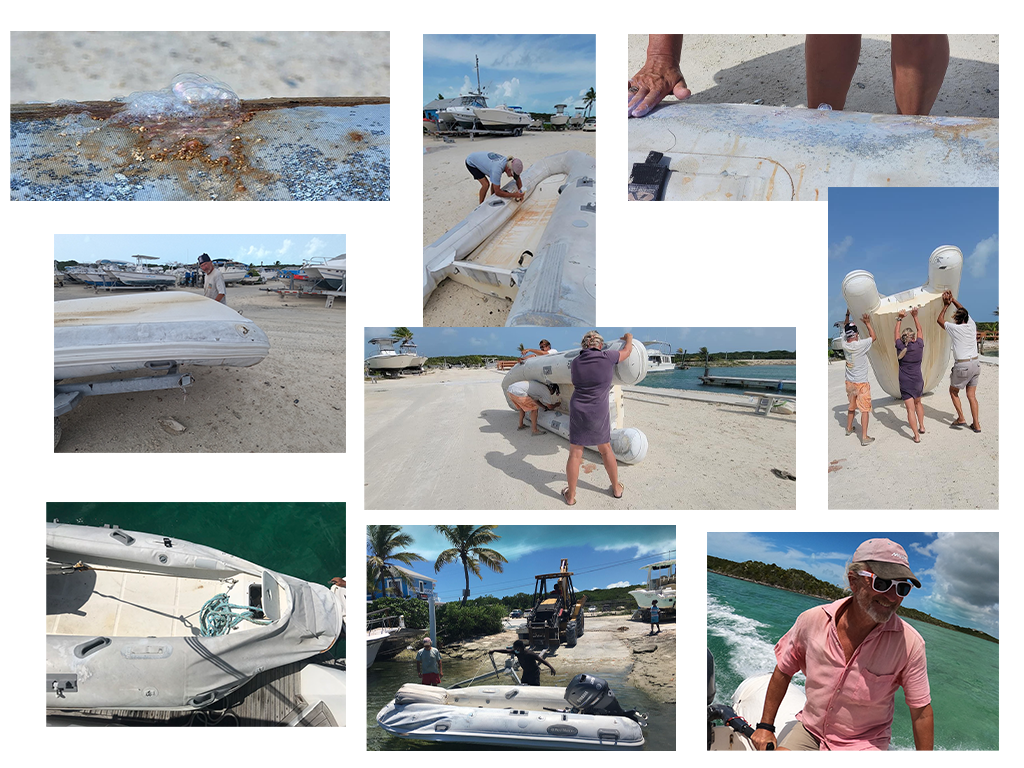 We left our boat in the Bahamas to renew my British passport. We had a flight back to the Bahamas booked for 8 weeks later. Then Covid struck and it's been 18 months since we were aboard. We've spent weeks fixing things from batteries to water pumps.
The most satisfying & miraculous has been the tender.
I reached out to West Marine who were only interested in the warranty. The tender is 8 years old, her cover was gone, the chaps were there but no longer on her. She was completely deflated.
The hypalon fabric was so thin and porous that we had to tow the dinghy with fenders attached for additional buoyancy to the yard to haul her out.
Defender came to the rescue making sure we got the sealant, 2  bottles were ordered and received.
We've spent 2 weeks rolling the sealant around. The sealant oozed through the mesh of the fabric.
Tilting, lifting & leaving each day with fingers crossed not wanting to be too hopeful but coming back each morning to a more inflated dinghy.
So from a no hoper we have our dinghy back.
Now we just need to see how we get the liquid rubber & paint here.
Lizzie & David Crumlish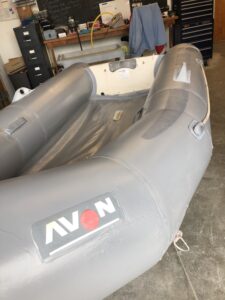 Before the kit, this dingy was a decrepit, leaking mess. Now, it looks years younger and – more importantly – it holds its air.
I wish to thank your guy on the phone for the guidance, and to thank you for a great product.
It's nice to get what you pay for.
Thanks again 
Joe Gannon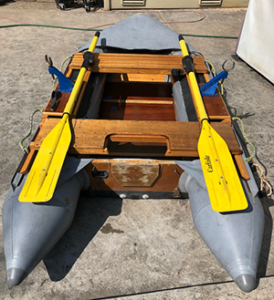 I have a 1973 Zodiac Mark 1 classic that has a Teak home built seating arrangement that lands on the top section of both air chambers. In the past someone had glued down some fabric on the tops of the chambers to reduce wear. Of course this is where the holes are, below this fabric, and these leaks could be seen with the bubble test.
I purchased 1 bottle of this miracle liquid and followed directions.
To my amazement this stuff worked on its first attempt like a dream.
My 1973 Zodiac is back in the business holding air, no need to bump it up before use or daily like I was.
What really surprised me is I can not see where the sealant has leaked out while sealing the holes. The stuff just worked and I again have full confidence in the boat.
Thank you for such a great product!
Curtis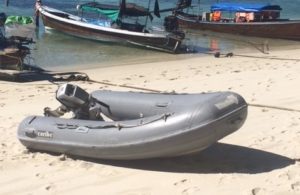 Dear Sirs,
I just wanted to tell you that your products are marvelous!!! Everybody was telling me to throw my RIB to the trash. But I restored it with your products and it is alive again!!!! Thank you very much.
Jorge Gonzalez Ortega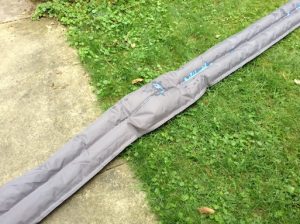 I just used your sealant for inflatables on the sponson tubes of a vintage Pakboat folding kayak and I am simply blown away by how easy it was and how well it worked.
The sponsons are made of PVC coated polyester cloth and they were deflating within minutes even though I thought patching a few obvious pinholes would solve the problem. When I used your sealant the true nature of the failure of the original material coating became obvious — the Inland Marine sealant oozed through multiple areas of the substrate fabric where the coating had obviously failed!
I followed your simple directions carefully and now the sponsons have held full pressure for 24 hours! It would have cost me over $150 to replace them and now with less than $16 worth of your sealant the kayak is restored to full function. I have enough left over to use on my other boats — I have 4 other folding kayaks with inflatable sponsons.
Since this is a frequent issue with folding and inflatable kayaks and canoes I have posted a recommendation for the sealant on my paddling forums. Attached is a photo showing how the sealant penetrated and sealed the areas on the sponson where the water and air proof original coating had failed from the inside.
Great stuff!! Thank you!
Kerry
Wow, what can I say? It really works!
We have a 13 ft rib, apx 145 lbs, with three chambers that is about 16 years old. The local repair shop told us there were too many leaks on the seams and that is was "not worth the money to fix it."
Two of us were able to roll the boat over and over doing one chamber at a time. Now NO LEAKS!
We thought it might take two or three bottles, but in our case, one worked just right.
A big thanks.
John, S/V Indigo Hamlet
Hello,
I have a Hutchinson Nautisport Speedyak from 1968 that I have owned since 1974.  It had not been used in a couple of decades because of a fairly severe leak in one tube (about 2 hours before it was unusable) and a minor leak (about a day and half before it was too soft) in the other tube. I couldn't part with it due to sentimental reasons.
I took a chance and purchased your sealant kit.  I wasn't expecting great results given the age, and the severity of the leak.   After using your kit my boat is like new !!!   I brought it up to full inflation and it remained that way for over a month.  I have deflated and inflated several times and it's still perfect!  I couldn't be more impressed with your sealant!  
Thank you for your time!
David, Newport, MN
Hello folks,
Just wanted to drop you a line to let you know I received my order, used it, and that stuff is awesome!
The leak in my Coleman Lazy Spa Hot Tub inflatable was instantly located and before I could put a patch on the outside, the product sealed the leak from the inside.
I initially did an extensive soap and water search and could not find the leak. Granted, I could have put the soapy solution in the inflatable and likely would have found the leak BUT, the soapy solution would not have found AND sealed the leak.
Thank you guys for such an awesome product that's the real deal as advertised!
A small look at what your product has done for us.
One before and one after.
The second one we have doctored the photo to see what the stripes would look like.
The rest of the tube was repaired with your products to hold air again……
Thanks again….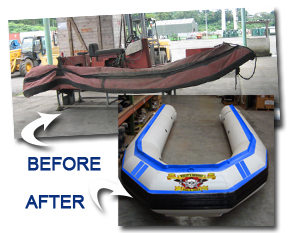 Almost finished with the project Avon. Thought you might want a picture of "TT Soul Seeker."
Your product brought this 1990 back to life.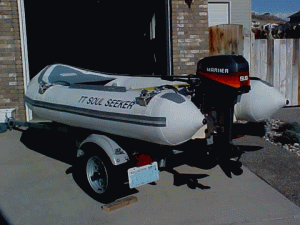 This sealant is amazing! I am impressed!
I have a seyvlor k68 purchased in 1979. It has spent the last 35 yrs folded up in storage. First, I was amazed that the boat didn't crumble when I took it out of the bag and unfolded it. Secondly, I was amazed it held air at all. I could get 2 or 3 hours on the water before I needed to pump it back up. I tested it with soap and water and found several pinholes. I patched those with some glue made for that purpose. After the glue dried overnight I pumped it back up and found some more pinholes. I put the sealant in per the instructions and it has been holding air for the last 6 days without losing any air at all.
Thanks for your outstanding CS and a great product.
I fish about 125 days a year and have broken four "National Fresh Water Fishing Hall of Fame" world records so it's very important for me to have a dependable boat.
I took good care of my German Metzeler inflatable and it looked like new but three different sections developed numerous leaks. Several boat dealers told me Metzeler was out of business and one of the reasons was that the material they used often developed a form of fatigue that was incurable. They said throw the boat away and buy a new one. I was not convinced and further investigation led me to your Sealant Kit or should I say in my opinion your "Miracle Sealant Kit." After using your product my boat holds air perfectly. It's like having a new boat. Your Sealant Kit saved me from buying a new boat and at least $2,000.
You just saved me $2,500! That's what it would cost me to replace my Seaworthy hard bottom inflatable. Your Liquid Rubber on the exterior and Sealant on the inside make by boat perform and look like new. Thanks for products that live up to their claims.
What a product!!!! I've just recently used your Sealant kit and am amazed at the results. My ten year old West Marine inflatable now stays rock hard (better than it ever has). Now the only problem is the copious amount of water it takes on due to the almost total lack of rubber on the bottom. Therefore, I would like to order your Liquid Rubber kit to re-skin the bottom. If it works half as well as the Sealant I should end up with a brand new boat!
I just used your Sealant Kit and does it work! It only took one application and the boat holds air just like a new one. The reason I'm writing is I have several friends who have the same problem with their inflatable. Can we buy the Sealant in larger quantities?
Thank You
We host a family reunion at our lake house every year. I had just spent $300 on a 12 ft. towable for my nieces and nephews and naturally they tore it up the first day by putting a 2 inch gash in one of the air chambers. I had some of your Patch Kit left over from repairing my dingy and figured I would try it. What a product! The next morning the raft was as good as new! You couldn't pull the cut apart! The only question I have is do you sell this glue in a lipstick applicator for my sister-in-law?
Greetings from Kenya  I just used my last quart of Sealant and can of Top Side Paint on my 12 year old Avon. We started from Ft. Myers FL in 1979 and have been around the world twice.  I think our Avon is more Sealant and Top Side Paint than dingy, but she still works and looks Bristol. Thanks for great products.
It's always a pleasant surprise to find a product that really does what it's supposed to do. Your inflatable boat Sealant Kit performs even better that your advertising said it would and my old formerly saggy inflatable is almost good as new again. Where I was having to pump it up almost every day, it now stays hard as a rock for weeks at a time. The porosity problem is solved. It's amazing, and it was so easy to do just by following the instructions.
Congratulations on a great product. Next, I'm going to try the TopSide Paint.
Still Have Questions?
We welcome your questions at Inland Marine and would be happy to help you in choosing the right product for your restoration project. Just let us know!